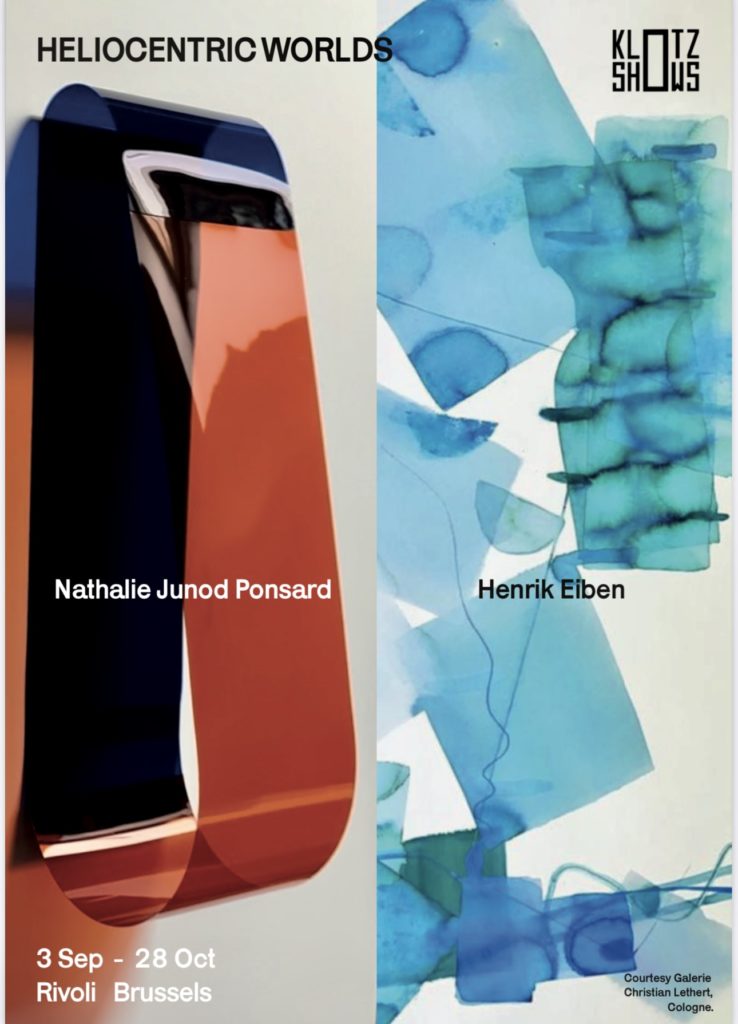 GALERIE KLOTZ SHOWS
Rivoli Building, Chaussée de Waterloo 690, Bruxelles, Belgique
HELIOCENTRIC WORLDS
WALL SCULPTURES BY NATHALIE JUNOD PONSARD
DRAWINGS AND SCULPTURE BY HENRIK EIBEN

One of the greatest scientific achievements of the 16th century was the discovery of the heliocentric model. Replacing the prevailing geocentric system, Copernicus proposed a setting where the Earth, as well as all other planets and stars, revolve around the sun. According to his model, the sun became the center of all life and creation. Scientifically, this has become common ground. Many artists have been deeply impressed and influenced by the power and impact of the sun, like the famous jazz musician Sun Ra with his Solar Arkestra. In the mid-1960s, they recorded two albums entitled "The Heliocentric Worlds of Sun Ra". Their luminous sound has suggested the title of this duo show, bringing together two well established and internationally renowned artists with very different backgrounds, both of them being masters in experimenting with light and color. Their works combine great visual and spatial effects and exercise a strong influence on the viewer. Through their creations, both artists show us the way into their own "heliocentric worlds", with interesting connections to be explored.
Nathalie Junod Ponsard essentially develops large luminous installations modifying the density of spaces and unsettling our visual capacities. Her works fill unusual locations with pure and saturated wavelengths, troubling our senses and triggering a physiological modification of our perceptual markers. Scientific experimentations have led her to explore the influence of light on biological systems, and to test the limits of perception, as well as the psychotropic effects of light. For this exhibition, in a more limited indoor setting, she has specifically created a series of smaller wall sculptures in transparent foil, generating alluring color effects when exposed to sources of natural of artificial light. The centerpiece is the LED illuminated "Halo", giving us a good idea of her larger outdoor works. Nathalie is well known for her permanent monumental works in the public space, e.g. Light Unfolding (2017) in front of the Austerlitz building, Persistant Twilight (2010-2020) at Place Malraux, and Precious brilliance (2019) at Place de l'Europe Simone Veil, all in Paris. In 2021, she created a carpet-work of art, Odyssey, commissioned for the large staircase of the Palais de l'Élysée, which seems to unfold under our feet as if we were stepping on light beams. Most recently, she was officially selected to create several light installations in the Athletes' Village for the Olympic Games of 2024. Her work has been shown internationally, at 6th Suzhou Jinji Lake Biennale, China (2023), Internationale Lichtkunst-Biennale, Hildesheim (2020), and Western China International Art Biennale (2017), among many others. She lives and works in Paris.
Henrik Eiben creates multifaceted art works full of deliberate contradictions. Influenced by American minimalism, his paintings, works on paper and installations all evolve around a reduced vocabulary of geometric shapes. However their composition is not derived from mathematical systems, but rather develops intuitively. For his sculptures, he works with unorthodox materials, mixing fabrics ranging from fake leather to cashmere felts or knitted wool with construction materials plus a variety of painting techniques. The interaction between distinctly different mediums as well as highly contrasting colour schemes give him an artistic freedom resulting in exceptionally engaging art works. For this show, he specifically developed a series of new watercolor and pencil drawings, as well as a metal sculpture, all perfectly illustrating his solar approach to artistic creation. Henrik studied at Academy of Visual Arts and Design Enschede, at Maryland Institute College of Art Baltimore, and graduated at State Academy of Fine Arts Karlsruhe. His work has been shown in many solo and group exhibitions, e.g. at MAB FAAB Centro, Museu de Arte Brasileira, Sao Paulo (2010), Galerie der Gegenwart, Hamburg (2011), Busan Biennial, South Korea (2012), Kunsthalle Weishaupt, Ulm (2014, 2018, 2022), Künstlerräume, Weserburg Museum für Moderne Kunst, Bremen (2014, 2017, 2019), Kunstraum Potsdam (2018), Garten der Gegenwart, Hamburg (2020), Ostfriesland Biennal (2022), and Woods Art Institute, Wentorf (2023). He lives and works in Hamburg.
We are very pleased to present this "heliocentric" duo show, bringing together two outstanding artists for the first time in Brussels, in kind collaboration with Galerie Wagner, Paris and Galerie Christian Lethert, Cologne.

Text: Robert Klotz