2023, Site specific installation at Maison Poincaré, Mathematics Museum, Paris, France.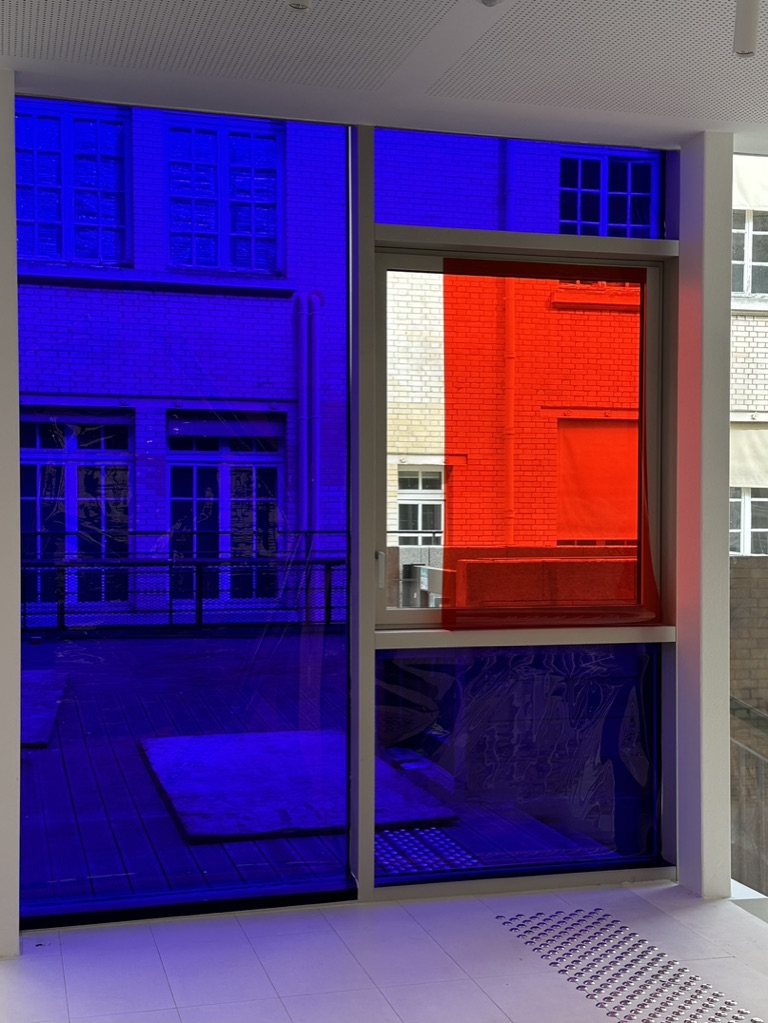 Facing the courtyard, stretching across the bay windows, Alpha absorbs its surroundings and captures the vision and retina of visitors. The boundary between inside and outside appears elusive, as the eye tries to focus on the brightness of the dark violet blue and its chromatic duality, orange. The nanometers of the two wavelengths, the colours of light, offer an experience of mobility and energy, creating new densities. Playing on the limits of depth of field, the translucent but highly chromatic immersion in luminous colour is achieved through the effect of two complementary colours sharing the bay window. The blue-violet is like a motionless movement in which the material vibrates under its influence. The air we breathe is no longer the same.
Alpha is the first ray, the first radiation made up of positive particles. The eye is subjected to radiance, brilliance and translucence, and is filled with wonder. Alpha and the bay window let in an intense coloured light that immerses the interior space of the Maison Poincaré. The light emissions seem to freeze the space, immersing visitors in its particular luminous vibrations. This sculptural installation disturbs our perception and becomes a mirage, questioning our relationship with the environment.
2,50 x 3,50 m Gel Filter
---
Institut Henri Poincaré
Sorbonne Université
CNRS
Galerie Wagner
Address : Museum-Maison Poincaré
11 rue Pierre et Marie Curie, Paris, France