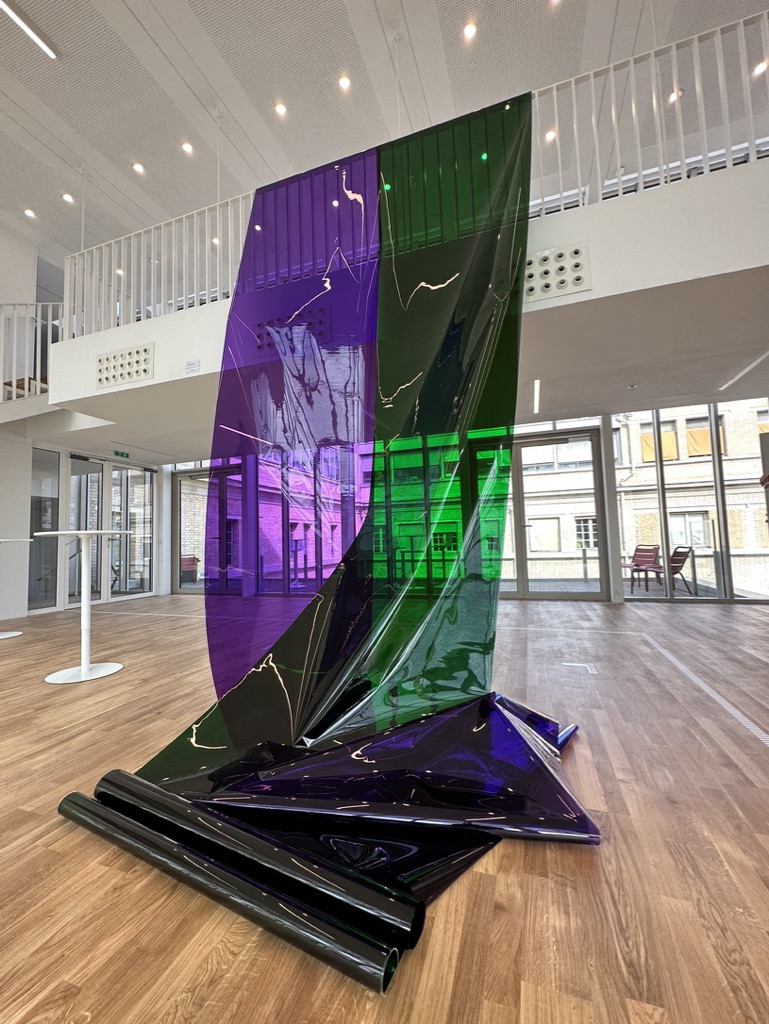 Maison Poincaré – Musée des Mathématiques, Paris, France.
2023, Sculpture.
The space is engulfed by the sculpture in its apparent luminous movement. Organic forms in intense, saturated colours reveal liquid lights of brilliance. The two colours, or rather the two wavelengths, are pure and brilliant, capturing and redrawing the luminous atmosphere in green and mauve. These chromatics are a spatial snap that excites our retinas, the surrounding space seems absorbed. As if suspended from the mezzanine, the sculpture floats, giving the sensation of being drawn towards the void.
The light emissions seem to 'freeze' the interior of the space.
Like a mirage, the visit becomes an experiment in light. Its refraction in the artwork seems to double the space, developing spatially in a play of coloured shadows. The sculpture, with its organic forms, revives an alternation of the two wavelengths. Shiny, floating particles fascinate and disorientate, giving rise to an experience of the viewer's physical and perceptive presence, a kind of re-enchantment.
2,50 m x 10 m, Gel filter
Institut Henri Poincaré
Sorbonne Université
CNRS
Galerie Wagner
————————————-
Address : Museum – Maison Poincaré
11 rue Pierre et Marie Curie, Paris, France