MAISON LOUIS CARRÉ
Bazoche (Yvelines, France)
2019, site-specific light installation
Architecture by Alvar Aalto,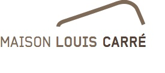 Light flows move, propagate, linger, disappear and reappear; they fluctuate, but they are always present. They reach out to other re-created wavelengths. The point at which they intersect is the light horizontal line of the roof. As if seeking harmony, wavelengths interact on this building, the only one of its kind in France, designed by Alvar Aalto for the gallerist and collector Louis Carré.
Absorbing the square or angular flat walls, the light sets the building ablaze. The fluidity of the light makes it appear transparent. As if elastic, the light adopts new chromatic values and spreads out in different shades. Producing a hypnotic phenomenon, a "landscape" of changing blurred light is revealed by coloured bands of equal value, which fade and reappear.
The projection of certain selected coloured lights creates a dialogue between the wavelengths, the Louis Carré house, and the visitors. The specific, ever-changing atmosphere of the installation creates an environment that is able to modify our thought processes, interrogating our own environment.
This is also a tribute to the architect Alvar Aalto, his quest for organic functionalism, and his interest in light and trees.
RGB LED spotlights, specially designed pre-recorded programme
Commission  from the Alvar Aalto Association in France to commemorate the 60th anniversary of the Maison Louis Carré.
Nathalie Junod Ponsard
Maison Louis Carré 60 years
In summer 1959, Olga and Louis Carré settled in their new home in Bazoches-sur-Guyonne, close to Paris. Designed by Alvar Aalto to meet the wishes and needs of the couple, the villa, whose construction was supervised by Elissa Aalto, is the Finnish architect's only remaining building in France. This total work of art, combining architecture, furniture and landscape, is one of his most remarkable private houses and a masterpiece of 20th century domestic architecture.
Photo Guillaume Thomas